Change
I EMBRACE RESISTANCE TO ORGANISATIONAL CHANGE, IT IS A SIGN OF COMMITMENT
Change
I EMBRACE RESISTANCE TO ORGANISATIONAL CHANGE, IT IS A SIGN OF COMMITMENT
Change within the company is paired with concern. Sometimes teams do not work or there are clashes between colleagues, resulting in them failing to deliver what is expected of them. Change, by definition, brings fear. "Can I do this?" and "Do I want this?" are logical questions that employees ask and sometimes reject when new developments are present. This is inevitable. In fact, this process has value. It helps to take the steps towards what is needed to continue to make an impact. Organisations, teams and individuals need the storm that brings change. And a good guide to guide them through it.
Believe in your own organisation during transformation
When it feels like you've entered a storm, it's nice when the navigation works. A good transformation coach helps you to feel safe during the change process. And to be able to trust that there is value in the stress and resistance you experience. Transforming into a future-proof organization is not the same for every company. Depending on the goal and ambition, you can use different methods for change. For example the way of working, system changes, education or training. I critically look with you to see whether the new course is in line with reaching your destination.
Not to be missed in organisational change
At its core, managing change is mainly about:
Context to understand why the change is extremely necessary;

Direction, because everyone wants to know what they contribute to;

Safety that you build through clear frameworks and structure;

Transparency for confidence and security in uncertain times.
I am the guide who leads your organisation through the storm
Indicating where your organization stands in the change and guiding your people through it is what I do successfully, also for you. With my 'what's possible' mentality I get organizations, teams and individuals on board. I embrace resistance because above all it is a sign of commitment. With all layers in the organization, I discover new possibilities by uncovering challenges and connecting opportunities to them. This ensures that there is support. Together we achieve ambitions by getting ideas as close as possible to the customer and linking them to the organizational strategy.
Transformation: Better customer experience, employee happiness and business profitability
Change can be used for various goals within your organization. What energizes me and I can bring energy in are changes that positively impact the corresponding discs on the triangle of a transformation journey: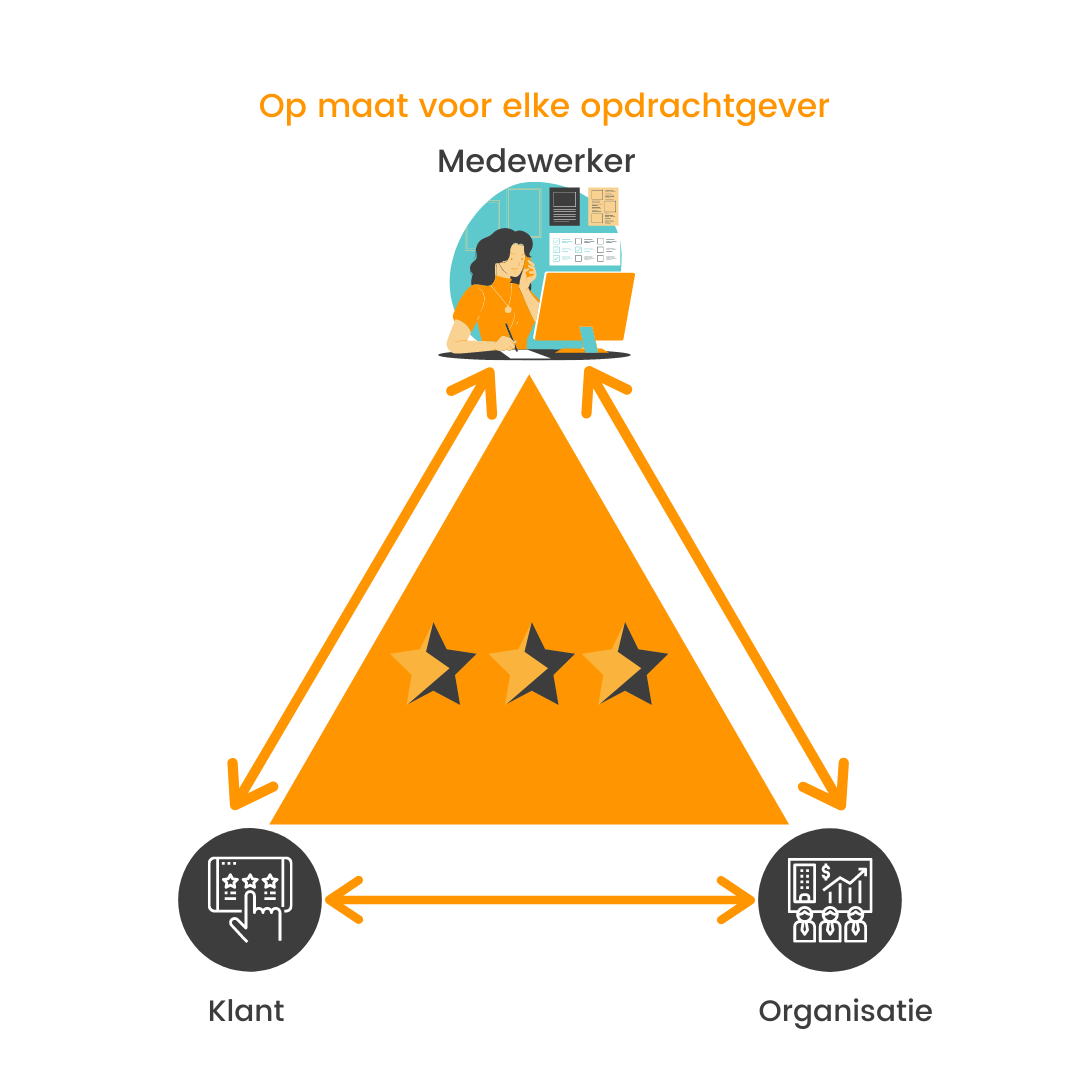 If you make improvement structural and learning part of your business strategy, you create a work environment in which people thrive. These are your most valuable tools. By hearing their experiences and insights and by giving them influence on the interpretation and execution of their work, you achieve faster, smarter and more targeted results. Simply because of the influence, they exert on the customer experience and therefore also the business profitability.
ING: from unwieldy container ship to fast speedboat
One of my greatest experiences in organizational change is that of ING. In order to become resistant for the future and meet today's customer demand, the traditional, unwieldy container ship (ING) was forced to transform into fast, flexible speed boats. An agile approach has been chosen with different methodologies to realize this change. I had the incredible opportunity to contribute to this as an Agile Coach in different departments, national and international with varying teams within the domains of Retail and Wholesale. My experience from various roles came in handy here, for example, to allow self-organization with clear frameworks and transparent goals, coupled with clear direction, to contribute to the urgent change within the banking context. ING's new purpose appealed to the imagination enormously and helped employees to put a clear point on the horizon.
Urgency for change? I'm here for you
In the meantime, I have spread my wings and I am making progress within other national and international organizations. In addition, the impact of the corona crisis and the therein resulted accelerating digitization create urgency for change. I really enjoy using my experience, creativity and pleasure in guiding these types of processes. . Are you on the verge of a major challenge? Or is transformation necessary for the survival of your organization? I am the leader who guides you through the storm of the process.
Training courses developed
"You can't teach a person anything; you can only help him discover it in himself. "
Want to know what I can do for you?
Sas van Beijeren Team Up & Develop
p/a Frame Offices 
Lange Marktstraat 1
8911 AD Leeuwarden 
06 44596670